A question I often get asked is, "If you have a mild accident or even a significant accident, what are the things to look for after the doctor says you're okay or maybe you're not even seeking out medical care, and when can I go back to riding?" Well, the first thing is, if you've had a significant enough accident that your helmet has been damaged, then you need to be evaluated by a physician, potentially even imaged, and make sure everything's okay. When you get in an accident and all your adrenaline is flowing, you have this really strong sort of fight or flight response, that adrenaline pumping through your body, and it's amazing that you can have significant injuries, broken bones, significant brain injury, and not actually know it because of all that adrenaline rushing through. Unless it's a really minor off, you probably should be evaluated by a professional. Go to the E.R., see your family doctor or something of that kind to be sure that you're safe.
Critical things to think about are headaches after you've had an accident. Sometimes a jolt to the brain doesn't even involve you hitting your head, so if you crash or fall and your helmet doesn't hit the ground, your neck and your body may still allow enough movement, violent movement of the head, that your brain could be injured even without your helmet hitting anything. So if you develop headaches, double vision, nausea, vomiting, any of these types of symptoms, that would be reason to get medical care.
Now, I've taken care of patients who I've worked up, they had an accident of some significance, but they've had no broken bones, their imaging of their brain shows that nothing's injured and they may still have headaches or dizziness or even double vision. The nerves for the eye that control the movements of the eye are very sensitive to injury. A little bruising of those nerves can sometimes cause double vision. While you're having any of those problems, you absolutely should not be riding. If you have double vision, if you're having headaches, if you have a little disequilibrium, little dizziness, it would be like getting on a bike and drinking. It's just not a good thing to do. So I usually don't let my patients go back on their motorcycle until all their symptoms resolve and they're completely back to normal. So I encourage everybody: ride safely and always wear a helmet.
Please note, the information provided throughout this site is not intended or implied to be a substitute for professional medical advice, diagnosis or treatment. All content, including text, graphics, images, and video, on or available through this website is for general information purposes only. If you are experiencing relating symptoms, please visit your doctor or call 9-1-1 in an emergency. 
Read More from Dr. Charles Rosen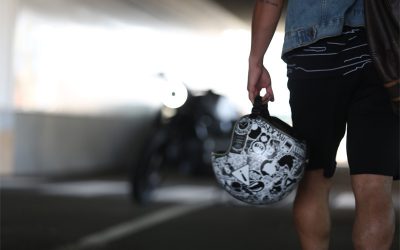 Since I ride bikes regularly and I'm a brain surgeon, as you could imagine many friends and colleagues when they're looking for helmets, they're motorcyclists, they come to ask me what kind of helmet do you wear and what kind of helmet should I get? What's...
read more