Several years ago, I became critically ill, where I was hospitalized at the university hospital for two months. He visited me every day of the week for two months to check on my well-being. As a fellow department member, he felt that was part of his responsibility. And during that time, I did become very close with Charles because we would converse about everything from A to Z. When I was ill, he tried to keep my mind active by presenting me surgical cases and what to do with them. But I was very, very touched by that. That is a unique quality in somebody that you usually do not see. And for that, I have grown to love Charles.
I came to West Virginia practicing as a neurosurgeon here at United Hospital Center in 1999, and I first met Dr. Rosen. He had a special type of lumbar spine case that I had a technique to perform on, to show him, and he invited me up to the university and help him with that procedure. And that was about the year 2000. So, I've known Charles for approximately 18 years.
Charles has always been the go-to neurosurgeon in our state for exceedingly complex skull-based procedures that nobody else does. These are the most complicated of procedures in neurosurgery, and he was wonderful in performing them. He was partially trained by world- renown Dr. Fukushima, who spent much time at the university, and Charles learned from him. And he also was in a training program that emphasized skull base. If it was complicated, Dr. Rosen would be able to do it, more so than probably any other neurosurgeon in our state. One of the most wonderful things about Charles: there was not one time he didn't come through with something he said he was going to. In today's world, that's unusual. Put with that, I had a tremendous respect for him.
One, he's a wonderful administrator. Two, you know, he's also a researcher. He's got a Ph.D. Three, he's a wonderful surgeon. He's a triple threat. He's an academician, he's a chairman, he's a surgeon, and he treated everyone with respect. I'm just a routine spine guy, okay. And if I see anything in my clinic that had any form of complexity, you know, in that borderline, just a little north of the spine, south of the brain, that's who I refer all my patients to. I didn't send them to Johns Hopkins or Cleveland Clinic or Mayo Clinic. I sent them to Charles, and those patients had good results. I'd let him operate on me. You know, as another neurosurgeon, I'd let that neurosurgeon operate on me. That's the real endorsement because I know. I know there are some I wouldn't let operate on me. He's one I would.
Please note, the information provided throughout this site is not intended or implied to be a substitute for professional medical advice, diagnosis or treatment. All content, including text, graphics, images, and video, on or available through this website is for general information purposes only. If you are experiencing relating symptoms, please visit your doctor or call 9-1-1 in an emergency. 
Read More from Dr. Charles Rosen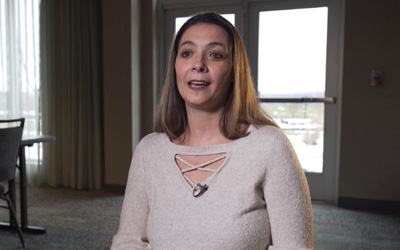 So, I met Dr. Rosen when I was a C.A., taking care of his patients, um, as an aide and then I advanced my career into nursing and switched over to the R.N. role and have been there ever since. I was at work, uh, in a patient's room, working, and my phone...
read more