At work, I always get a lot of grief for being a neurosurgeon who rides to work on a motorcycle. People often are wondering why I'd make such a decision. A motorcycle can be a very reasonable way to commute. It can be a reasonable way to see a state or country, and I very much enjoy riding. What I am adamant about is wearing a good helmet, and I don't want to get into the debate of big brother telling you you should or shouldn't wear a helmet. I'm not sure where I stand on helmet laws, but I certainly know, personally, I would not ride a bike without wearing a helmet, and I wouldn't ride a bike without wearing a proper helmet. Some helmets out there are sold for the sole purpose of skirting the law to say you have a helmet on, and some helmets are really designed to protect your head.
The key thing is to think of your brain. Your brain is soft, like Jell-O. Imagine you're a Tupperware mold with the brain inside. The big problem is even if you're not going that fast and you fall and hit the ground, when your head hits the concrete, it's like shaking that Tupperware container with Jell-O inside, and the Jell-O will literally fall apart. The same thing happens with the brain; if you have that sudden whack. So a helmet is basically a way of trying to slow the brain down as your head hits the ground or another object. And it's got an outer shell that's hard, and then the inside of the helmet is composed of some soft furry stuff to make it feel good. And then between it is almost like a styrofoam-like material that'll crush slowly, and the helmets have gotten very, very sophisticated. So it's not like the styrofoam from you cooler to keep your beer cold. It's a material that has different density. So in different parts of the helmet they put stuff that's a little firmer, in some areas a little bit softer, and the key is to slow down the acceleration of your head as your head hits something that's immovable so that you're not shaking the Jell-O so much.
And it's really amazed me over the years. I've taken care of many, many people who've been involved in motorcycle accidents. When they're not wearing a helmet, there's not a lot for me to do. People who wear helmets do amazingly well. I'm always amazed when you watch, say, Formula 1 racing, where they're wearing competition leather, and they have neck guards, and they have top of the line helmets, and gloves, and pants, and boots. And they'll get off doing a 100+ miles an hour or even 150/170 miles an hour and even walk away from some of those accidents.
There's also a lot of discussion about helmets making neck injuries worse, and that's garbage. So the people who say, "Oh, I don't want to wear a helmet because it's going to increase the chance of my neck being broken." That's not true. In fact, the data says, more likely than not, the chance of a neck injury is less with a helmet, not more than a helmet. The other arguments about diminishing your ability to see or hear. Again, I just don't see it holding water, in particular because, like I said, I've seen motorcycle accidents at relatively low speeds: 15/20 miles an hour, where people have devastating injuries from smacking their head on the concrete without a helmet versus people crashing at 40, 50, 60 miles an hour and having basically orthopedic-type injuries, but not spinal cord or brain injuries. So I encourage everybody ride safely and always wear a helmet.
Please note, the information provided throughout this site is not intended or implied to be a substitute for professional medical advice, diagnosis or treatment. All content, including text, graphics, images, and video, on or available through this website is for general information purposes only. If you are experiencing relating symptoms, please visit your doctor or call 9-1-1 in an emergency. 
Read More from Dr. Charles Rosen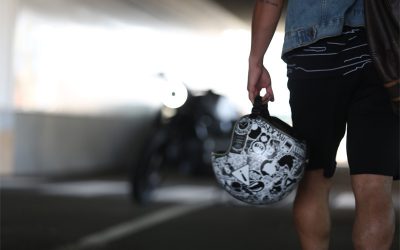 Since I ride bikes regularly and I'm a brain surgeon, as you could imagine many friends and colleagues when they're looking for helmets, they're motorcyclists, they come to ask me what kind of helmet do you wear and what kind of helmet should I get? What's...
read more