I'm getting a lot of questions these days about aneurysms and Emilia Clarke, the game of Thrones star, and the unusual aspect of her history is to having multiple aneurysms that needed care, so I wanted to talk a little bit about how often we see that. The answer is, is that if you have one aneurysm, the chance of having another one is real. It's usually somewhere, less than 20%, probably closer to 10%, but it does happen. If you have one, there's a chance you're having more than one. The good news is, is that the vast majority of the time they would both be diagnosed at the same time. That was also in her case, so they knew she had more than one and they knew that they had to have a plan to deal with the aneurysms. Sometimes, one of the aneurysms will be large enough to warrant treatment and the other one will just warrant observation. Sometimes they both warrant treatment. When they both warrant treatment, they can require, both could require surgery, both could require the techniques where they go through the arteries–the endovascular approach where they coil or stent them.
Sometimes patients need a combination of therapies. Many times over the years I've needed to have one of the aneurysms coiled and another one had to be operated on and microsurgical clipped. It's not like skin cancer where they'll keep popping up. If you're in your forties and your doctor diagnoses you as having two aneurysms or three aneurysms and those are effectively dealt with, the chance of you developing more aneurysms a few years later is actually very, very low. If you don't have them by the time you're in your forties or fifties, or whenever they're diagnosed, they're not going to keep showing up.
Unlike the person who may be spending far too much time in the sun and who has some Basal Cell Carcinomas removed from their arm and then four years later they need one removed from their cheek, and then 10 years later they have one on their shoulder…it's not that kind of situation. I do think though that people who have multiple aneurysms should be checked periodically with an MRA, a special type of MRI that looks at aneurysms and is very, very safe because of the devastating consequences of missing an aneurysm that ruptures. When aneurysms rupture, most patients die or are in very, very poor shape. Whereas, if you take care of them before they rupture, most patients do very well. But you shouldn't live in fear of being an aneurysm factory.
Please note, the information provided throughout this site is not intended or implied to be a substitute for professional medical advice, diagnosis or treatment. All content, including text, graphics, images, and video, on or available through this website is for general information purposes only. If you are experiencing relating symptoms, please visit your doctor or call 9-1-1 in an emergency.
Read More from Dr. Charles Rosen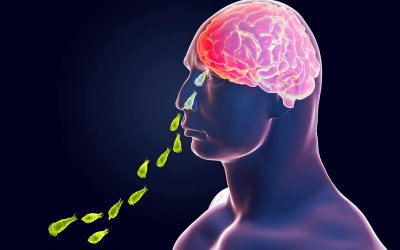 Last year I got asked a lot about the terrible tragedy related to the brain eating Amoeba or brain eating bug as it's called in the press. First off, these are relatively uncommon. They are horrific when they occur, but they're not common. What it is, is...
read more